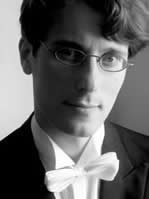 Alessandro Sbrizzi was born in Friuli, a region of northern Italy bordering Slovenia and Austria. He studied organ and harpsichord at the music academies in Udine, Italy, and Utrecht, The Netherlands. He also attended the Folkwang University of the Arts in Essen, Germany. His organ studies were under the tutelage of Lino Falilone and Bernard Winsemius, and for the harpsichord, Siebe Henstra, Andrea Marchiol and Christian Rieger. Alessandro has also participated in several master-classes, including the summer courses for baroque music of Lars Ulrik Mortensen. These inspired him to focus on the interpretation of music from the 17th and 18th centuries.
Alessandro won the first prize at the organ competition in Rome (1999), was a finalist in Dublin (2002) and at the Sweelinck organ competition in Amsterdam (2005). He has given solo and chamber music recitals in Europe, Argentina and Australia, and has performed with internationally renowned orchestras such as the Amsterdam Sinfonietta, the Residentie Orkest (The Hague) and the Rotterdam Philharmonic. He has acted as musical director for operas by Handel, Monteverdi, Vivaldi, Hasse and Conti. A number of Alessandro's concerts have been broadcast on Dutch radio and he has been a guest teacher at the Rotterdam Conservatorium of Music and at the Utrecht University.
Alongside his passion for music, he is also a lover of mathematics, graduating in 2009 cum laude from the Utrecht University. In 2007 he was a recipient of the "Young Talent Prize" of the Royal Holland Society of Sciences and Humanities for his achievements in mathematical studies.